Recipe
(Modified from What Do You do with this Stuff, p21)
For 4 generous Portion. Prep time 90 min.
Prepare the Beans
Soak in fridge overnight 4 One-Third-Cup measures of great Northern white beans in 4 cups of water.
Wash beans and cook partially for 30 min only so that they are still a bit hard in their center. Then let slowly cool down.
Prepare the vegetables
Chop the two onions
Mize the 2 garlic cloves
Slice the celery stalk and carrots
Wash the escarole leaves
Cut into ½ inch wide pieces, including the stems.
Stew Soft Vegetables
in big soup pot:
Braise chopped onions for 5 min
Add mince garlic until fragrant
Cool down and deglaze with one cup no-salt vegetable broth
Add Hard Vegetables
Add 4 cups of water (add one cup less if using cans and their liquid)
Add sliced celery and diced carrot
Add bay leaves and mix in oregano
Let simmer for 20 min
Add Beans and Escarole
Add beans and mix under
Add escarole, fold under batch-wise by placing them at the circumference of the pot and then covering them with broth and beans scooped out from the center of the pot.
Simmer gently for 20 min, folding under from time to time
Ready to Serve
Fill into bowls and sprinkle with nutmeg
Serve with crisp bread or toasted coarse grained bread.
Workplace
Starting to wash the salad leafs.
<![if !vml]>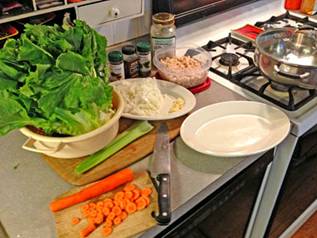 <![endif]>
Soaked beans (2 coups for making 3 cans)
<![if !vml]>
<![endif]>
Cooked beans (for 1 can from 2/3 cup dry)
<![if !vml]>
<![endif]>